StaffGarden Helps Your Team Manage Your Clinical Ladder
Hours Saved Per Nurse Per Year
We're helping Health Care Systems across the country
organize,

 

measure,

and 

grow

their Clinical Ladder programs. Schedule a demo and learn how StaffGarden's team can help yours too!
See Your Entire Program On One Screen
StaffGarden's Clinical Ladder technology is transforming how hospital education and nursing leadership teams manage and measure their Clinical Ladder programs.  Teams now have the ability to report on their most important metric; improved clinical effectiveness! Our ladder will dramatically improve your data tracking capabilities.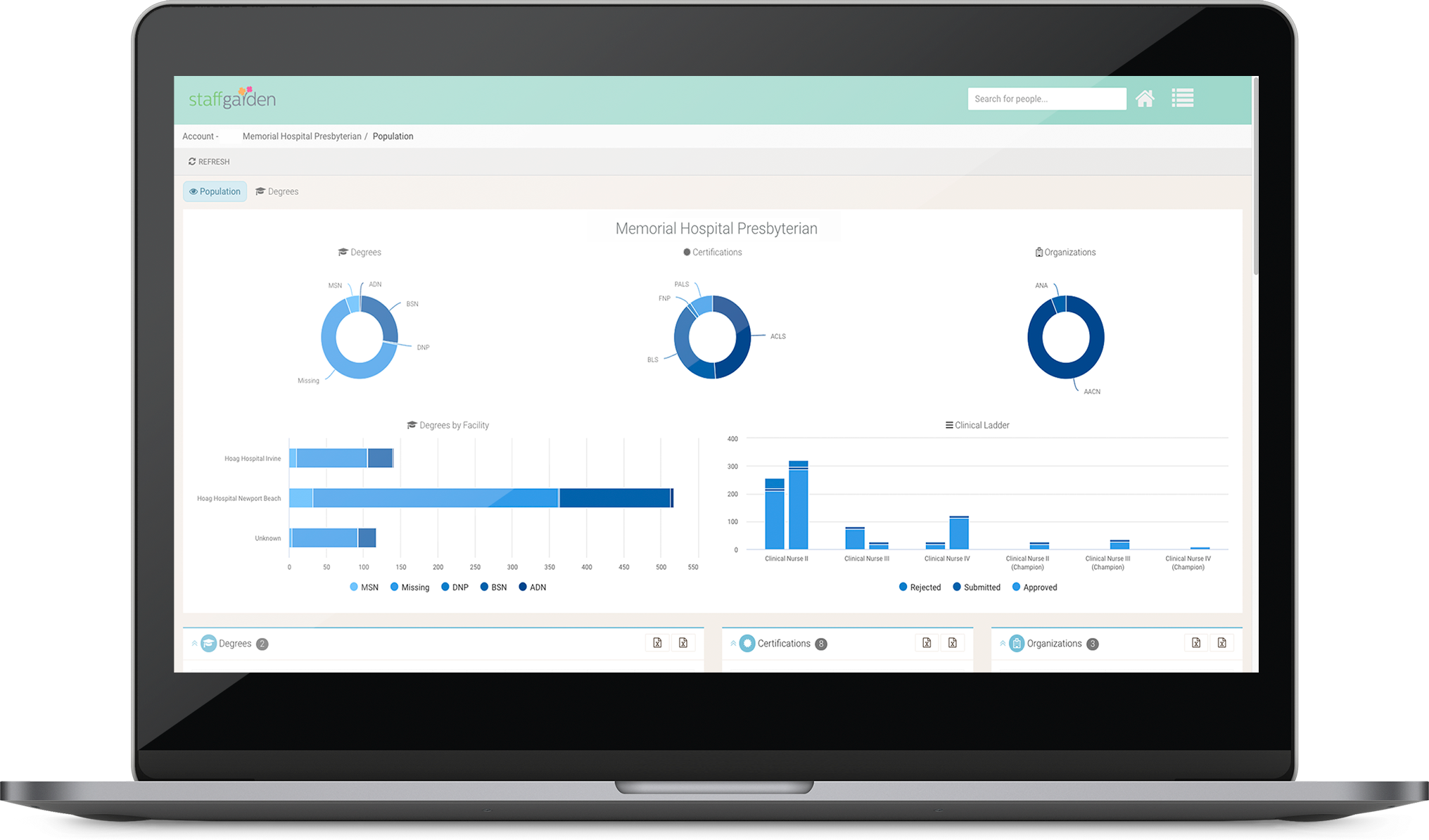 It's Time To Ditch The 3-Ring Binder!
Innovation is the key to unlocking success. StaffGarden's Clinical Ladder technology can help you increase engagement, improve transparency on all your projects, free up more clinical time for your nurses, and bring a fresh modern look to your program. Let StaffGarden's team and technology move your Ladder program to a digital platform in as little as a day.
Documenting and analyzing the benefits of a robust Clinical Ladder program has proven in the past to be elusive. However, now with StaffGarden and the analytics it provides, we can better leverage our talented Clinical Ladder Nurses to help drive the organization to new levels. As the healthcare industry continues to evolve, the Clinical Ladder program will be one of the major tools we use to meet patient's expectations and distinguish Hoag as a nationally recognized provider.
Jason Z.
Sr. Program Manager, Performance Improvement
The new system provides a way to support nurses in real-time, and I am able to see who has turned in their updates and who has not," "It's very quick and allows me to touch base with everyone digitally without having to pull them aside during a busy work day. I can support them without taking up valuable clinical time. It also allows me to speak to their interests and ideas as things occur, rather than a week later when I can see them.
Erin B.
Magnet Hospital Nurse Champion
StaffGarden can help your Clinical Ladder reach new heights.
Schedule a demo today and learn our how our team can help yours!