Register for Your Chance to Win 2 Passes + Hotel + Airfare to NNBA 2016 in Las Vegas !
Never Miss Out On A Nurse Event
This nurse event has ended. If you want to be the first to know of future events, click the button below!
Register With StaffGarden
Give us your basic info and get your free ePortfolio. We'll also sign you up to receive updates from NNBA and nnbanow.com.
Complete The Welcome Wizard
Enter your License, Education, and Experience and you'll be eligible for this incredible prize package.
Win!
Winner will be chosen on September 1st and will be notified using the information in their ePortfolio.
What You'll Win
Two Main Conference Passes
Two American Airline Tickets
Two Nights at Westgate LV Resort & Casino
You will win 2 full conference passes to NNBA 2016. You'll be able to attend all sessions and be eligible to earn contact hours!
You and your guest will arrive in beautiful Las Vegas via American Airlines and enjoy two paid nights at the wonderful Westgate Las Vegas Resort & Casino.
Ideally located immediately adjacent to the Las Vegas Convention Center and just one block from the world-famous Las Vegas Strip, this legendary location boasts the most alluring variety of spacious hotel rooms and suites in a relaxing atmosphere, while still maintaining easy access via the Las Vegas Monorail to the excitement of the Las Vegas Strip.
Why You NEED To Attend NNBA
This conference is designed for those nurses that are thinking about starting a business, those already in business and those looking for career alternatives. Nationally acclaimed speakers and business experts will provide nurses with the information, tools and actionable take-a -ways to start your business or make your current business even more successful. In addition, there are five pre-conference workshops will give you dozens of ideas and tips, whether you are a novice or a veteran business owner. This is an educational and professional development event
Actionable Take-A-Ways
Discover and obtain:
Emerging opportunities of nurses roles in the new health care landscape
Information on how to transition to independent nursing or a nurse entrepreneur
How to start-up or grow your existing business
Sound business management principles and strategies
How to market and diversify your business
Ideas for your own nursing business
PLUS, have access to the most powerful networking, mentoring and marketing opportunities in the industry, exhibits AND eligible contact hours!
Who Should Attend
Nurses interested in learning business and strategies skills to advance their careers
Nurses interested in learning business and strategies skills to advance their careers
Self-employed nurses and nurse business owners in the startup and growth mode
Nurses new to the idea of being an independent nurse or nurse entrepreneur
Nurse entrepreneurs already in business looking for additional revenue streams
Nurses interested in meeting like-minded colleagues and extending your network
The National Nurses in Business Association (NNBA) was founded in 1985 and is dedicated to the education, advancement and promotion of Nurses in Business, Nurse Entrepreneurs and Intrapreneurs. Thousands of nurses have benefited from membership in the NNBA, launching successful businesses. NNBA provides a networking arena for nurses in business including national educational conferences, workshops and a bi-monthly newsletter. NNBA's active participation and contributions of its richly resourced membership has fueled NNBA's growth and status as the vanguard of the nurse entrepreneur movement. We are Nurses, Leaders and Mentors serving as "The Voice of Nurse Entrepreneurship".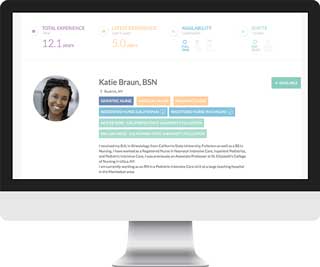 An ePortfolio Exclusively For Nurses
StaffGarden's innovative ePortfolio for nurses gives you the ability to create and share your career and #GetNoticed in a whole new way. Along with a personalized link, you'll get free tools like expiration notifications and a resume generator. All for free.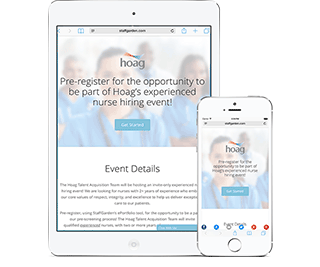 Connect Directly With Hospitals Who Want You
StaffGarden will never sell your information to any 3rd party. Instead we will notify you when we partner with healthcare institutions who are looking to hire the best nurses in the country. If you ever see a opportunity that your interested in, you can submit your ePortfolio with a click of a button. No additional forms to fill out, your completed ePortfolio is all you'll need.